Designing A Swimming Pool Everyone Would Love a good pool design should be cohesive with your home's overall style. For example, if your home is modern and minimalist, a rectilinear pool would be appropriate, while sweeping radius corners would be more suited to a period home.
It's also important to consider the placement of plantings around your pool. You'll want to ensure that attractive blooming plants are evenly and purposefully distributed around the area.
Waterfalls
Whether you're swimming beneath one or simply gazing at its enchanting beauty, your backyard pool becomes an oasis. With a waterfall, you can express your individuality and create a creative element of pride for your outdoor space.
Waterfalls are also an efficient way to enhance your pool's filtration, as their constant movement releases purifying negative ions. This is important, as it prevents sediment from settling in your pool's foundation and allows the water to absorb more oxygen for a clean and healthy environment.
Design your pool waterfall in advance of building to reduce construction and operating costs. With intuitive 3D design tools, you can lay out pools and hardscape automatically and accurately.
Water Features
Adding pool water features can take your backyard pool design to a new level. Water features not only add visual appeal they also help create a calming audio backdrop to your pool space.
Sheer descent waterfalls send a clear sheet of water down from a wall into your pool offering a dramatic focal point. They can be lighted for a stunning visual effect especially at night.
Scuppers are slots or spouts usually from a raised ledge from which water flows into your pool. They are very versatile and can be enhanced with a rock display for an exotic look or a plant display for a more natural environment.
Seating
Seating is a must-have for a pool, as it offers swimmers the option to relax when they are not in the water. It also gives guests a place to hang out, socialize, and enjoy the poolside view.
Ledges are a great way to add seating. They designed a focal point in your pool and come in a variety of shapes including circles, squares, or custom free-form designs. They can be covered with the same interior finish as the rest of the pool or adorned with material like flagstone.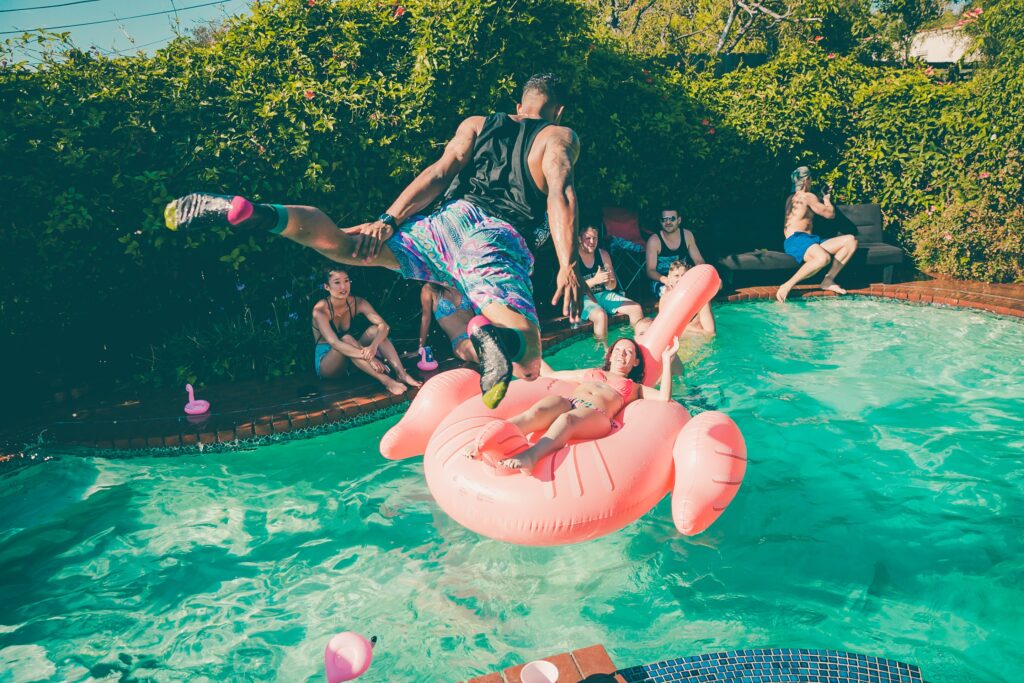 When choosing seating and ledges for your swimming pool, it is important to think ahead and include them in the initial conversation with your builder so they can be constructed as part of the project. This will ensure a more seamless result.
Lighting
Lighting isn't just for safety – it can make a swimming pool look absolutely magical. Outdoor string lights are one of our favorite options, illuminating the water and surrounding areas for a twinkly effect that's sure to delight.
Lights also work well with other water features, including waterfalls and grottos. A waterfall with lights beneath it looks gorgeous at night, while a pool light in a grotto creates an inviting setting for swimming late into the evening.
You can also complement your electric lighting with fire features like lanterns and tiki torches, for a more earthy feel. You can even add in flame-effect lighting that changes colors remotely, for extra ambiance during parties.
Plants
Plants are great for creating a colorful and tropical feel around the pool. So plants can also provide privacy by blocking views of people in and out of the water.
When choosing plants for a swimming pool area, it is important to avoid plants that shed petals or spikes as they will be in close proximity to swimmers. Additionally, it is important to avoid plants that have invasive roots as they can tear up the paving around the pool.
Gene recommends a variety of plants and trees to add interest to a pool landscape. The plants such as yucca are an excellent choice for a pool landscape because they have long, spiky leaves and can offer privacy.
Safety
While swimming pools are fun for the whole family, they do come with their own safety concerns. Fortunately, there are several ways to minimize these risks and make the pool safer for everyone.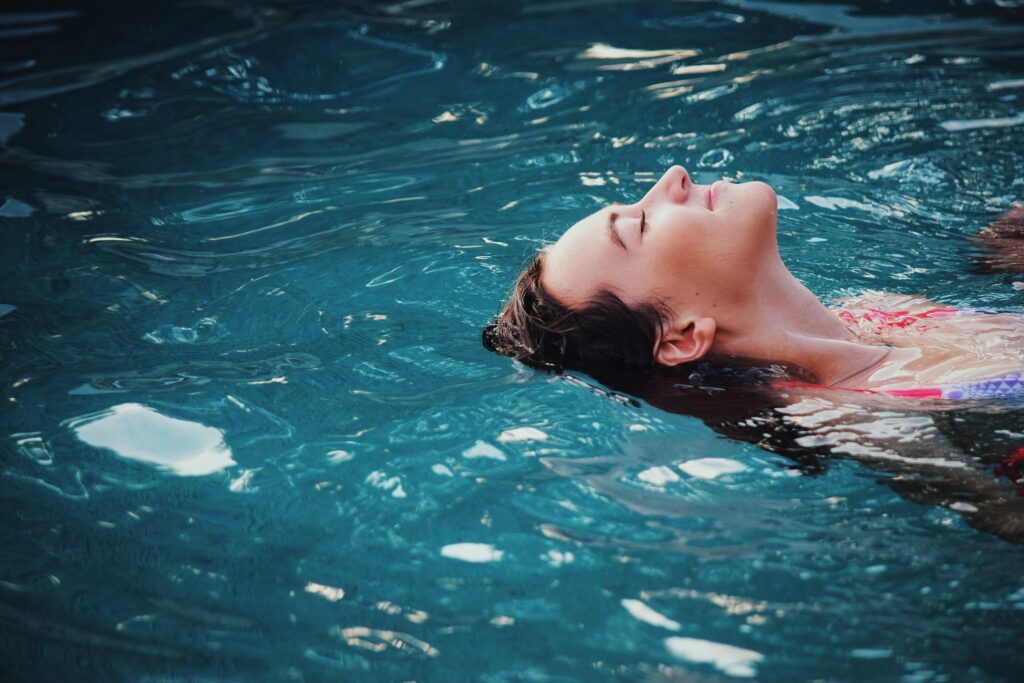 A fence and secure gate are essential to protect children who may wander toward the water or get out of sight for just a moment. It's also a good idea to install a door alarm that will sound when kids open the door and reach for the pool area.
Adding a nonslip surface around the entire perimeter of the pool can reduce injuries caused by people slipping while walking or running. A safety ledge provides swimmers with a shallow spot to rest anywhere in the pool.