The New BMW i7 Series Protection is the company's first armored electric vehicle. It boasts class VR9 protection against gunfire and explosive threats, with a fortified sanctuary inside made of armour steel, specialized glass, and an armoured roof and underbody.
The new model is based on the i7 xDrive 60 and has dual electric motors making 544 horsepower. The extra weight, however, takes a big toll on performance, with 0-60 time climbing from 4.7 to 9.0 seconds flat.
Armouring
The i7 Protection and the gas-powered 7 Series Protection boast class VR9 protection, which is the highest civilian rating from Germany's Association of Test Labs for Attack-Resistant Materials and Construction. This means the cars can resist up to three shots from military-grade small arms fired from 33 feet, and are able to withstand aerial drone attacks with explosive charges as well as fragments from hand grenades.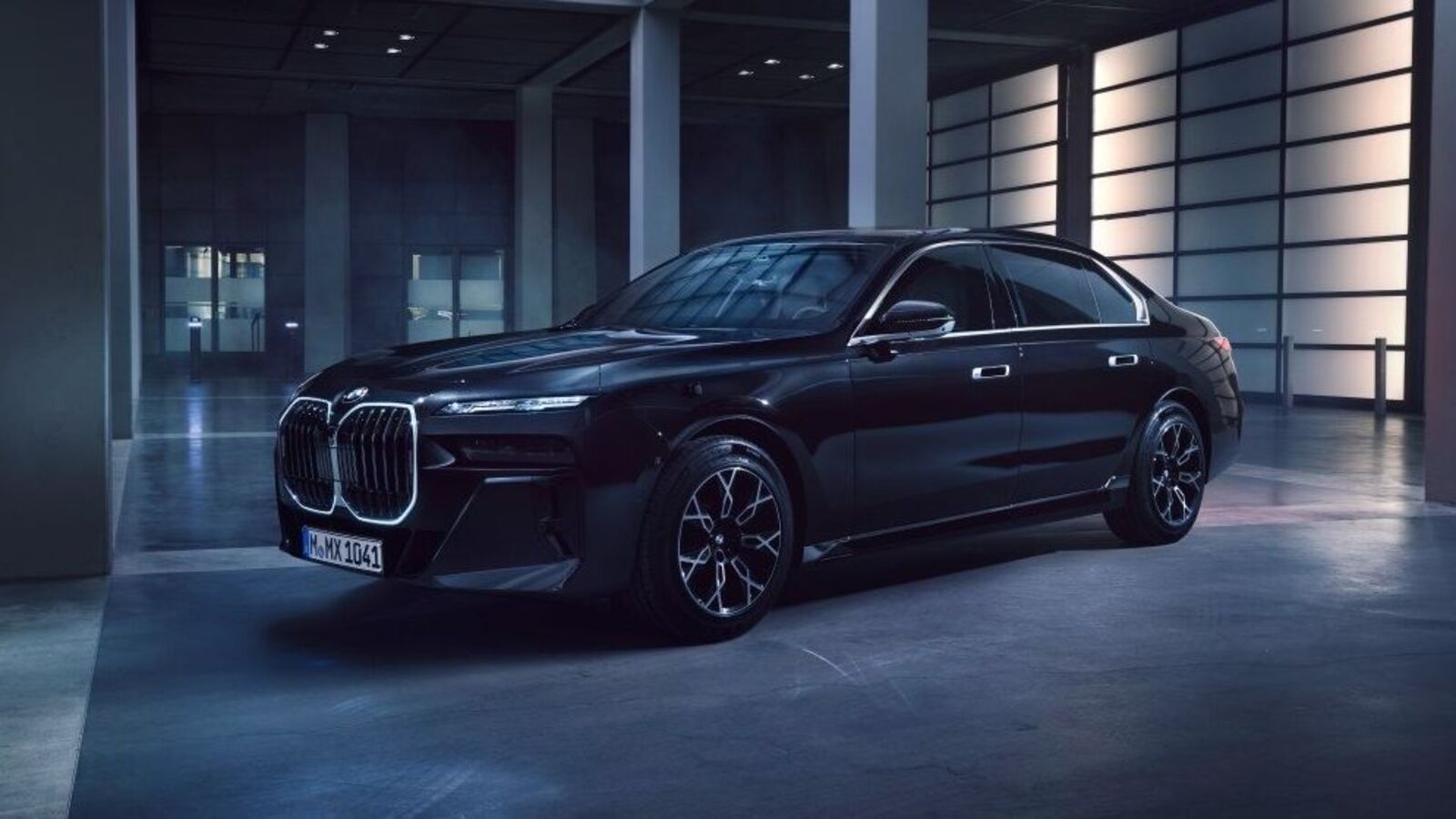 The cars achieve these lofty standards thanks to what BMW calls the "Protection Core," a chassis structure made from armor steel that creates a fortress-like sanctuary inside. Specialized armor plating also used for the doors and underbody, with self-sealing fuel tanks closing any breaches made by bullets in a matter of seconds.
Despite all the added security measures, both cars retain the luxury and comforts of regular BMWs. For example, the i7 and 7 Series Protection models get built-in intercoms that allow passengers to communicate with people outside the car, as well as privacy shades that open or close at the push of a button. And they equipped with a 1,265-Watt Bowers & Wilkins Diamond Surround Sound System, champagne cooler, and electrically operated rear windows.
Electric powertrain
The i7 Protection uses a modified version of the dual-motor electric powertrain from the regular 7 Series, producing system outputs of 400kW and 750Nm for a quick and responsive drive experience. This enables the model to accelerate from 0-100km/h in 9.0 seconds and reach an electronically limited top speed of 99mph.
It also features rear-wheel steering, like the standard version of the i7, which reduces the turning radius and increases precision and dynamic response when driving on narrow, twisting roads or around town.
The i7 Protection equipped with a range of driver assistance features, including coded driveaway protection and a rearview camera. The latter can detect objects and people that are approaching the vehicle, automatically add tension to seat belts, close the moon roof, and activate post-crash braking if the car senses an impact. This makes it easier for professional drivers to concentrate on the road ahead. Other safety features include a cool box between the rear seats with an eight-litre capacity and powered opening and closing doors.
Chassis
The i7 Protection and petrol-powered 7 Series Protection get the same 105kWh battery pack as their showroom counterparts, but their armour plating adds considerable bulk. This means 0-62mph times drop to nine seconds and top speed is limited to 99mph.
BMW says the vehicles can withstand 7.62 x 54R armor-piercing bullets as well as drone attacks with explosive charges and fragments dispersed by hand grenades. The roof and underbody also strengthened, while the special fuel tank has a case that can self-seal on impact to prevent any loss of fuel.
Buyers can tailor the vehicles to their exact needs with options including a fresh-air supply system, fire extinguishers (with automatic and manual discharge), flag poles for official use and flashing lights. Inside, occupants can communicate with the outside world via intercom systems and enjoy music on demand from the 28-speaker Bowers & Wilkins Diamond surround sound system. A drinks cooler also standard, as electrically assisted doors and horizontal shades that open 10 centimeters at the press of a button to black out the rear windows.
Interior
The armored i7 and 7-Series Protection offer full VR 9 level protection, meaning they shielded from threats like bullets and explosive attacks. The sedans also feature specialized glass and a fuel tank that can self-seal when hit, keeping any breach from spreading.
BMW says the Protection models are designed from the start to be armored, rather than simply adding it later on. The entire chassis structure constructed from armoured steel and features a 'protection core' that helps to keep the sedans' interior intact during an attack.
Of course, all this protection comes at a price. The i7 Protection is nearly 400lbs heavier than the regular i7 eDrive60, which affects its performance. It can still hit 62mph in nine seconds but its top speed is limited to 99mph.
Customers can tailor their vehicles with a range of safety-enhancing options, including a fresh air supply system, fire extinguishers that used manually or automatically, flashing lights and radio transceivers.